船用气囊
Airbag launching refers to a way to launch vessels with Launching Marine Airbags. It is a methodology for ship launching utilizing air bags. These marine ship launching airbags are made by synthetic-tire-cord reinforcement layers,their nick name is Marine Airbags.
这种船舶下水方式具有需要基础设施少、风险低、成本低的优点。船舶下水安全气囊为船体提供支撑,通过船用安全气囊的滚动将船舶带入水中。因此,它显然比横向下水等其他选项更安全。
 SUPERIOR GUARANTEE  SUPREME GUARD NANHAI marine airbag price has the lowest single-application cost in the industry

Far beyond the ISO14409 standard
---
NANHAI Marine Ship Launching Airbags safety factor adopted in the design of marine airbag is based on accepted theory (ISO14409),but NANHAI ship launching airbags comprehensive performance exceed ISO14409 and has been proven by extensive experimentation. Operational experience over a long period of time attests to its high safety and reliability, and multi-tests have proven the strength to be suitable.
Superior performance in harsh environments
---
In order to adapt to the harsh climate of Antarctica,NANHAI R&D team upgraded the material and process of the airbag, and cooperated with the Brazilian scientific research station to successfully complete the construction of the scientific research station. So far, the sales network of NANHAI products has covered seven continents in the world.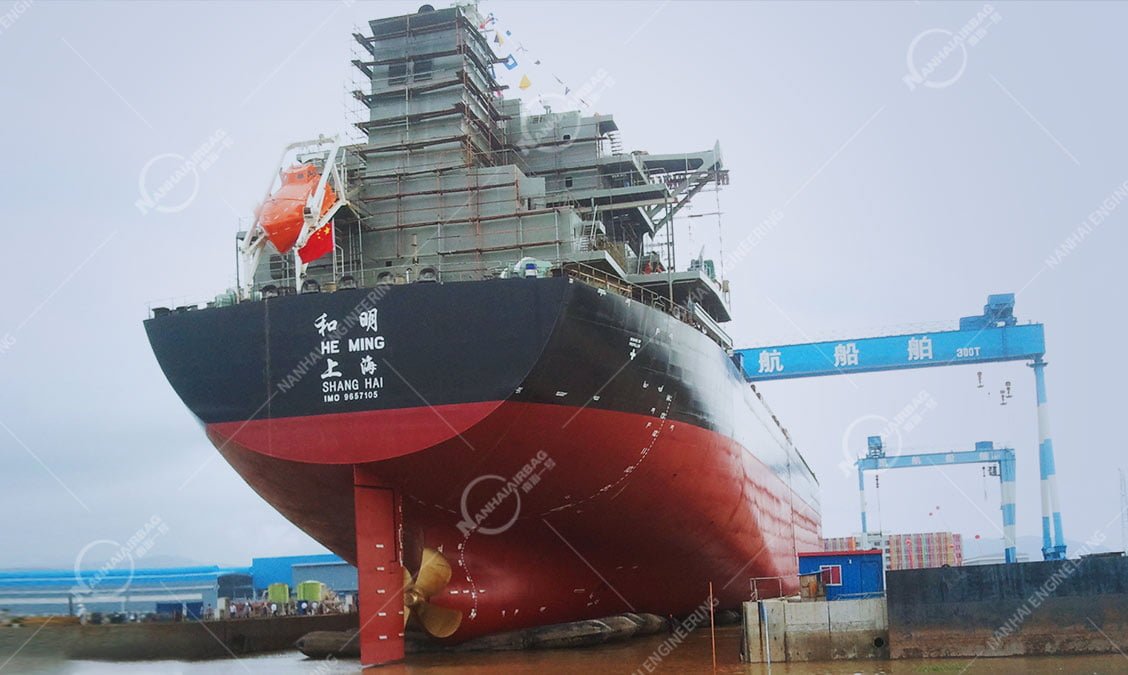 Oversized airbag
---
In October 2011, the successful launch of a vessel with a deadweight tonnage (DWT) of 75000 tonnes set a world record for ship launches utilizing airbags.NANHAI-Ship Launching Airbags can be up to 4m or more in size, 35m or more in length, and up to 20 layers. Which can withstand the launch of 100,000 DWT ships.
800kPa ultra-high pressure airbag
---
南海工程作为最早的船舶安全气囊制造商,引领并创新了船舶安全气囊技术,其超高压防刺穿安全气囊工作压力高达800KPa。为六大洲的船厂和贸易公司的船舶下水和船体修理提供帮助。

Features of Ship Launching Airbag
---
1.南海研发超高压气囊(独特)
2.Natural Rubber Material-Supreme Strength & Stability
3.每个安全气囊都有其可追溯性的身份证
4.(4P2S) 标准中的生产过程控制
5.Over 38 Production Process, Over 13 Quality Control Process
6.可以定制任何尺寸的安全气囊
7.安装简单且成本低
8.Low Maintenance Cost, Shipping Cost Minimization
9.提供完整的安全气囊应用解决方案
10.安全且可靠的性能
11.性能不会退化或变化
Far beyond the ISO 14409:2011 standard
---
1.ISO 34-1,硫化橡胶或热塑性橡胶:撕裂强度的测定。
2.ISO 37, Rubber, vulcanized or thermoplastic — Determination of tensile stress-strain properties.
3.ISO 188, Rubber, vulcanized or thermoplastic — Accelerated ageing and heat resistance tests.
4.ISO 815-1, Rubber, vulcanized or thermoplastic — Determination of compression set.
5.ISO 1431-1, Rubber, vulcanized or thermoplastic — Resistance to ozone cracking.
6.ISO 7619-1, Rubber, vulcanized or thermoplastic — Determination of indentation hardness.
NANHAI AIRBAG VIDEO DISPLAY
---