Ship Launching Airbag
Airbag launching refers to a way to launch vessels with Launching Marine Airbags. It is a methodology for ship launching utilizing air bags. These marine ship launching airbags are made by synthetic-tire-cord reinforcement layers,their nick name is Marine Airbags.
This kind of ship launching method has the advantages of requiring less permanent infrastructure, low risk and low cost. The ship launching airbags provide support to the hull of the ship, marine airbags rolling motion take a vessel launch into water. Thus it is obviously more safety than other options like sideways launching.
 SUPERIOR GUARANTEE  SUPREME GUARD NANHAI marine airbag price has the lowest single-application cost in the industry

Far beyond the ISO14409 standard
---
NANHAI Marine Ship Launching Airbags safety factor adopted in the design of marine airbag is based on accepted theory (ISO14409),but NANHAI ship launching airbags comprehensive performance exceed ISO14409 and has been proven by extensive experimentation. Operational experience over a long period of time attests to its high safety and reliability, and multi-tests have proven the strength to be suitable.
Superior performance in harsh environments
---
In order to adapt to the harsh climate of Antarctica,NANHAI R&D team upgraded the material and process of the airbag, and cooperated with the Brazilian scientific research station to successfully complete the construction of the scientific research station. So far, the sales network of NANHAI products has covered seven continents in the world.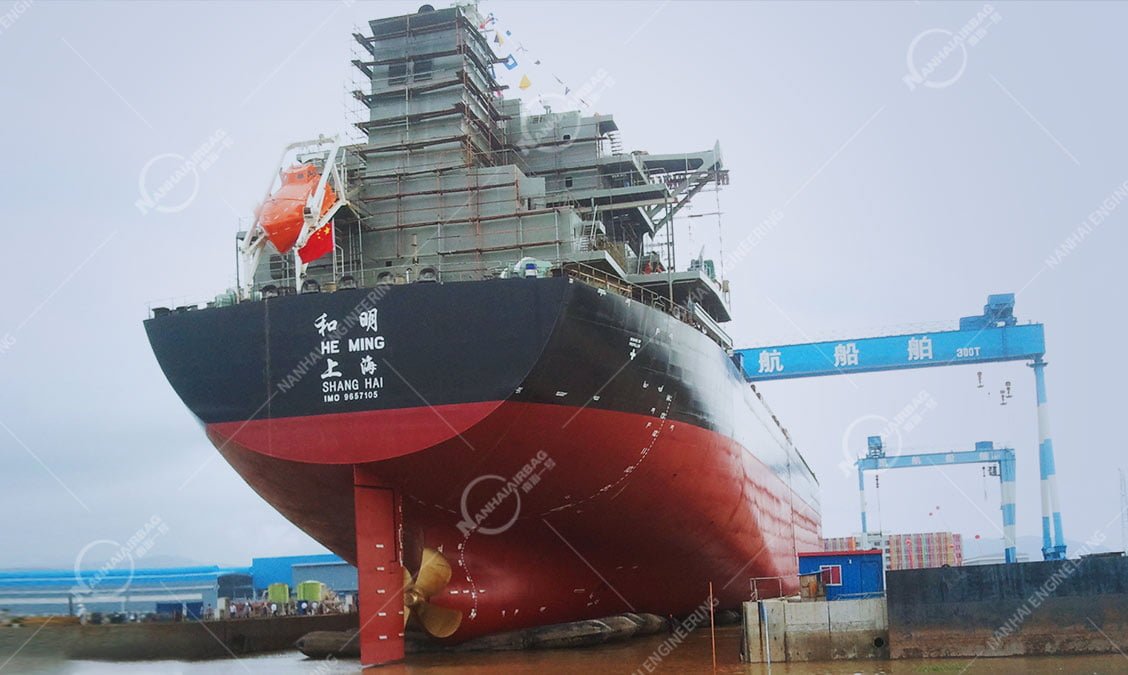 Oversized airbag
---
In October 2011, the successful launch of a vessel with a deadweight tonnage (DWT) of 75000 tonnes set a world record for ship launches utilizing airbags.NANHAI-Ship Launching Airbags can be up to 4m or more in size, 35m or more in length, and up to 20 layers. Which can withstand the launch of 100,000 DWT ships.
800kPa ultra-high pressure airbag
---
NANHAI Engineering as the earliest manufacturers of ship airbags, has led and innovated ship launching airbags technology with its ultra-high pressure airbags with working pressure as high as 800 KPa anti-puncture airbags. Supplying to shipyards & trading companies in over 6 continents for ship launching and repairs using.

Features of Ship Launching Airbag
---
1.NANHAI Original Ultra-High Pressure Airbag (Unique)
2.Natural Rubber Material-Supreme Strength & Stability
3.Each Airbag Has Its ID for Traceability
4.Production Process Control in (4P2S) Standard
5.Over 38 Production Process, Over 13 Quality Control Process
6.Customized in Any Size Airbag
7.Simple and Low Cost Installation
8.Low Maintenance Cost, Shipping Cost Minimization
9.Provide Complete Airbag Application Solutions
10.Safety and Reliability
11.No Deterioration or Variation in Performance
Far beyond the ISO 14409:2011 standard
---
1.ISO 34-1, Rubber, vulcanized or thermoplastic: Determination of tear strength.
2.ISO 37, Rubber, vulcanized or thermoplastic — Determination of tensile stress-strain properties.
3.ISO 188, Rubber, vulcanized or thermoplastic — Accelerated ageing and heat resistance tests.
4.ISO 815-1, Rubber, vulcanized or thermoplastic — Determination of compression set.
5.ISO 1431-1, Rubber, vulcanized or thermoplastic — Resistance to ozone cracking.
6.ISO 7619-1, Rubber, vulcanized or thermoplastic — Determination of indentation hardness.
CONTACT NANHAI
Send as a message via contact form

For better communication , please leave your contact number for us in below.
NANHAI BEG UDARA VIDEO DISPLAY
---
Excellent quality of products and reasonable costing drives our adoption in the global market.
NANHAI strives to help our customers to succeed.
Our professional teams are able to offer a best solution for impossible even delivery options. Larger-sized pneumatic fenders are usually deflated to ship, those method will helping you get the most economical transportation freight costs.

Drop us an email and our staff will be glad to respond your Enquiry.